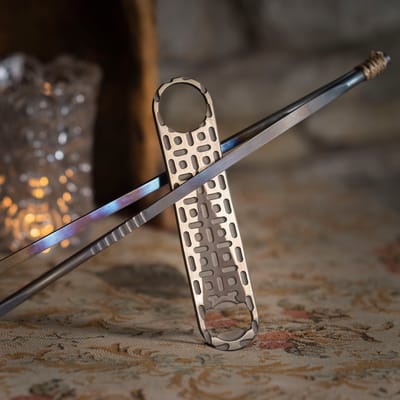 Image B-day present for your colleague, what present is for bartenders unique ?
We manufacture extremely high quality custom bottle openers, garnish tongs and others, using the best materials available. We pour enjoy and dedication into each one of them and having fun doing it.
A wise man once said: Life is like the river. It starts here and ends there. Only we choose the way river flows. After 11 years of being a bartender. I have decided to change the flow of my river. At the begining of this change, there was a hammer. Later on a Mill, now a precision CNC. It all started with an idea of creating something. Being a bartender for most of my life. I caught my self one night sitting, holdinng my trusly blade opener and closed a cold beer.
There was only one answer for that.
Proudly made by a Bartender
Proudly made in Slovakia
Bottle opener :
Born from an idea, fashioned from 12027 Swedish stainless steel. Heat treated and precision milled on CNC. At the moment: we make a three patterns. An endless combination of coating.
-matt or shiny or combination of both
- acid etched or heat colored
- custom engraved and many more.
Garnish tongs :
Our second product we came with, are tongs. I wanted something special, something no one have in bar. Titanium is perfect material, springy and unique in bar industry.
We make long 40 cm and short 20 cm. Depends how you want to use them.
All our products have unique serial number, and can be engraved to your desire. just let us know .